Maternity Maxi Dresses You'll Look Fabulous In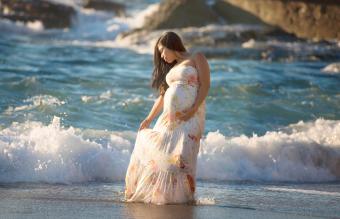 The maternity maxi dress is one of the most popular designs for pregnant women. The dresses are favorites among celebrities, but they are also surprisingly inexpensive, making them ideal for nearly every pregnant woman.
Maternity Maxi Dress
Maxi dresses are popular in plus sizes because of their forgiving design. The empire waist sits right under the bust line and the waistline falls loosely around the woman's midsection. This is the ideal waistline for maternity wear.
The maternity maxi dress is so flattering that some pregnant celebrities adopted the outfit as part of their pregnancy wardrobes. Angelina Jolie and Gwen Stefani are among the pregnant celebrities who made maxi dresses for maternity wear a hot trend.
The dresses are long and flowing, offering plenty of room for a pregnant woman's changing figure. They are great choices for their simple style that is appropriate for casual, career and maternity eveningwear.
Shopping for Pregnancy Maxi Dresses
Shopping for maternity clothing can be very frustrating, especially since the outfits are worn for only a few short months. Shoppers can rejoice in knowing that the maxi dresses are different because they can be worn after the baby arrives. The style is suitable from the early stages of pregnancy through the third trimester as well as after giving birth. Few pieces of maternity clothes have such longevity.
Many manufacturers have invested their talents in designing maxi dresses for pregnancy and the options are quite diverse. Women can choose from simple solid colors and vivid patterns. The relatively simple design is actually versatile, ranging from summery sleeveless looks to maxi dresses with sleeves.
Sleeveless Dresses
The causal sleeveless design is great for the summer months and a simple jacket can give the outfit a polished look from fall through spring. Many options are available for women who want to stay cool by wearing sleeveless outfits during pregnancy. Options include:
Halter dresses are very flattering on many women. The halter draws attention to the shoulders and neckline. Halters work very well when paired with the empire waist.
Strapless dresses range from very casual to formal. Some designs include simple, clean lines and others feature dressier details.
Spaghetti straps are thin and subtle, making them a nice alternative to strapless options.
Removable straps are available from some retailers, allowing for quick adjustments that can take the dresses from day to evening.
The materials used to make the dresses are very important. Pregnant women need comfortable attire in durable fabrics. Shoppers can find the dresses in silk, cotton, jersey, and rayon/spandex blends.
Shoppers can find the maxi dresses for pregnant women through many retailers including:
Many other retailers offer the sleeveless maxi designs in maternity wear but many pregnant women prefer a little more coverage. The dresses are available with sleeves through a number of different stores. Prices range from about $30 to $120 depending on the designer and the materials used to make the outfits.
Maternity Dresses With Sleeves
The maxi dresses are often associated with summer attire but many options are available for colder seasons. Women can find the maternity dresses with sleeves in a number of different places including but not limited to:
Due Maternity has a gorgeous maxi with sleeves by Momeez. The outfit has a flattering V-neckline and billowy sleeves.
Nordstrom offers the maternity dresses with fitted long, elbow-length, and short sleeves in addition to sleeveless designs.
Belly Dance Maternity offers maxis with long sleeves that are perfect for a career maternity wardrobe.
---
The maternity maxi dress is a perfect addition to a woman's pregnancy wardrobe. Few maternity clothing items offer as much comfort and longevity as the long dresses do. The trendy look promises to become a classic for years to come.