9 Terrific Trends in Maternity Fashions
Long gone are the days when pregnant ladies would stay home and out of the public eye until after her little one arrived. Maternity fashion isn't a frumpy parade of items you suffer through wearing for a few months anymore, either. Instead, there are trends, and many of them follow the general women's fashion trends so you don't have to feel left out on the fashion front regardless of which trimester you're in.
Top Maternity Clothing Trends
As with more general fashion trends for women, there's a little something for everyone no matter what her style is. If you're a fan of classic looks and subtle patterns, your baby bump is covered. More into elegant, feminine pieces? No problem. Like any excuse to live in leggings and oversized tops or dresses? You're in luck, because those are trending in the maternity world, too.
Another trend you'll see is maternity clothing that can be worn before and after pregnancy. Designers are often hesitant to put a lot of time and energy into designing maternity clothes simply because women aren't likely to spend as much on clothing they'll only wear for a few months, but when those items can pull double-duty and work when you're pregnant as well as when you're not, there's a motivation to create new maternity wear.
Elegant and Feminine
What better time than during pregnancy to play up your femininity? What makes clothing feminine?
Soft colors
Lightweight fabrics
Thin layers
Empire waists on dresses and shirts
Ruffles
Dresses
Anything flowy
Dressing like this will help keep you cool and feel more comfortable around your midsection than some other choices might. The Navy Lace Maternity Dress from Seraphine (less than $100.00) is the perfect example of a feminine, elegant style, thanks to the lace, classic color, and empire waist.
Loose, Short Capes, Coats, and Ponchos
Pregnancy can make you feel warmer than usual, but that doesn't mean you'll spend the whole pregnancy with no need for outerwear. Loose, short capes, coats, and ponchos are the best and trendiest bet. When you choose something so loose, you won't have to worry about it fitting later in pregnancy. You can even comfortably wear the same piece during the breastfeeding months when your old coats may not button over your chest. The Breezy Maternity/Nursing Poncho from Nordstrom may serve you well during and after pregnancy. It comes in taupe, gray, black, and bright pink and costs just over $50.00.
Leggings With Tunics and Dresses
Leggings are a pregnant lady's best friend. They're stretchy, comfortable, and available in enough fabric patterns and materials to make it through any season with style. Pair them with dresses, tunics, oversized sweaters, t-shirts, or button-ups. Seraphine's Faux Leather Panel Maternity Leggings (around $60.00) show you can still have edgy, sexy style when you're pregnant.
Unapologetic Colors and Patterns
The more color, the better! Take your pick between brights, patterns, paired patterns (if you're wearing a skirt and top rather than a dress), and whatever your heart desires. If you prefer pastels, rock those, but if you like bold and neon colors, now is your time to shine.
Jumpsuits
Aside from the obvious complications that may come with a baby frequently pressing on your bladder, jumpers make cute, stylish choices that grow with you. In some cases, you can wear the same items before, during, and after pregnancy. They're typically loose-fitting and can be dressed up or down with jackets and cardigans, and if you have a problem with pants sliding down as your body is changing (or just in general), these one-piece options will take care of that. The Chloe Off-the-Shoulder Ruffled Stretch Poplin Jumpsuit from Net-a-Porter isn't exactly inexpensive at around $300.00, but it's meant to be worn before, during, and after pregnancy, so it may be a valuable addition to any wardrobe, especially in a versatile color like pale army green.
Maxi Dresses
Will maxi dresses ever go out of style for pregnant women? Probably not. The colors and patterns may change over time, but maxi dresses are a wonderful go-to choice that don't have the same complications as a jumpsuit. They're loose and cool, so they're ideal for warmer months, but they pair well with jackets and sweaters, too. If you already have a few, they'll probably be fine to use for the first and maybe even second trimesters. Once you hit the third trimester, you may need to look for maxi dresses in the maternity section to avoid that high-low hemline look your growing belly could give your regular maxis. Maternity styles will often have ruching around the midsection that will keep you comfortable all over and hold your hemline in place, while others are just loose all over. The Hatch Sunset Striped Woven Maxi Dress from Net-a-Porter will set you back about $300.00, but it combines the bright colors, stripes, and a loose, flowy style that works before, during, and after pregnancy.
Shirt Dresses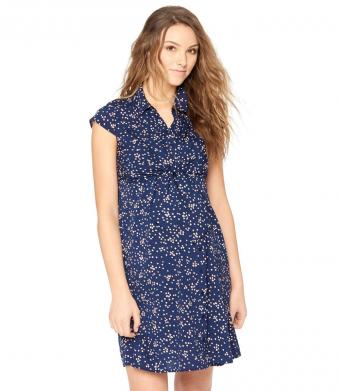 Shirt dresses make getting dressed easy before, during, or after pregnancy. They're trendy in all categories of women's clothing right now. Throw one on with a pair of leggings (or without, depending on the style and length as well as what you feel comfortable in) and sandals or boots, and you're done. If you decide to breastfeed, the buttons could make feedings less complicated than they could be. The Maternity Striped Shirt Dress from TopShop (under $100.00) combines a few maternity trends: shirt dress, stripes, and bold color. Dress it up for any season.
Creative Ruching
Ruching is always in style when it comes to maternity items, but there are some trendy, creative ways of adding ruching that aren't quite so typical. For example, maternity wear meant also to be worn before and after pregnancy can add ruching for visual interest that contributes to comfort during pregnancy. The Guardian mentions ruching on trousers for women who are not pregnant. Ruching will work during any stage, but if you plan to wear them well after pregnancy, the best options are those found in the regular women's clothing (wear them during the first and possibly second trimester, but probably not the third). In other cases, you may be able to wear items with creative ruching during your whole pregnancy. For example, the Maternity Knot Front Dress from TopShop could grow with you.
Vintage-Inspired Smock or Swing Dresses
Retro styles are trendy, even in maternity clothing. Vintage-inspired smock and swing style dresses are almost totally flared, offering plenty of room. The Maternity Crochet Yoke Swing Dress from LOFT (just under $100) is available in a beautiful Moroccan Red shade that will look great on any mom-to-be.
Have Fun With Your Style
Pregnancy is such a joyful time, and you don't have to dampen the mood by wearing clothes you don't like. Don't sacrifice your style and what makes you happy simply because you'll only be wearing it for a couple of months. There are too many options to give up on the trends for the better part of a whole year, and some of the items will even carry over into the next several years of motherhood.