Great Maternity Shapewear and Support Garment Options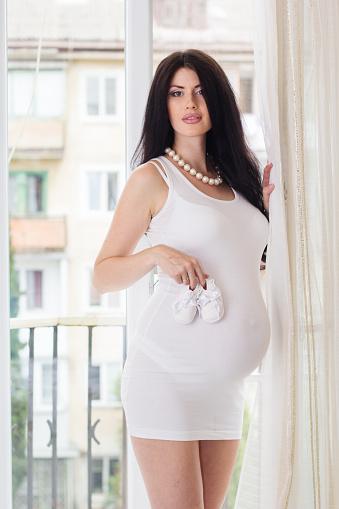 Maternity shapers and support garments mold, shape, and hold your body parts while they are affected by the changes of pregnancy. They support your core and center of gravity, adding definition and smoothness under your clothes. The garments can give you a sense of stability and relieve some of the discomforts of pregnancy. Make sure they are not so tight that they compress your belly or restrict your breathing and blood flow. You can find several types of these garments in department, regular clothing, and specialty maternity stores, or through online sites.
Tanks, Camisoles, and Bras
Maternity camisoles and tanks support your breasts, upper torso, belly, and back and give you a defined look under your dresses and shirts. Stretchable material allows for some extra room for your growing body parts. Some tanks and camis have built in bras, and may have panels that add extra support for your upper back. For your growing breasts, you can buy regular bras with good support in increasingly larger sizes. As you get closer to delivery, buy maternity bras you can transition for nursing your baby.
Options
You have many options for these garments.
Bellybra Maternity Support Tank (pictured) for $30 at Amazon is made of stretchable spandex and is said to lift the weight off the pelvis.
The Original Cozy Tank with camisole type straps has a panel inserts in the chest area and lower part of the garment for added support. It retails at Newegg for $32.
The Wireless Full Coverage Nursing Bra is a support bra you can wear before and after you deliver your baby. It sells for $55 at A Pea in the Pod.
Girdles, Panty Shapers, and Tubes
Maternity girdles, panty shapers, and tubes shape and support or cover parts of your back, belly, bum, hips, and thighs. These accessories give a smoother look to dresses, skirts, and pants:
Maternity panty g irdles are softer and more stretchable than regular girdles. They may have panels that shape and support below the belly and back. You can get briefs or longer styles that extend below the groin. These panty girdles are best worn during the first or early second trimester, but you might be also comfortable during the second trimester with larger sizes.
Panty shapers add support and shape for your back, hips, pelvis, thighs, and belly and work well under your tighter dresses or pants. Panty shapers end at mid-thigh or lower, and some go above the waist to support more of your back. The abdominal area has a panel insert of thinner, less restrictive material to accommodate your growing baby. You can wear them throughout your pregnancy, but they are most helpful for support during the late second to third trimester.
Tubes or sleeves fit around your belly, back, and hips to cover unbuttoned or too-large maternity pants and skirts. They are usually more stretchable and give lighter support than girdles, adapting to an advancing pregnancy.
Options
You have many options available for these garments.
Anita Maternity Full Coverage Brief retails at Bare Neccessities fo r $22. It has a built-in panel below the belly for added support.
Secret Fit Shaper by A Pea in the Pod is s panty shaper that molds your bottom and thighs and has a stretchable abdominal insert. It sells for $35 on their website.
The Tummy Tube, for full belly coverage by A Pea in the Pod, is available in their store or website for $26.
Belts, Bands, and Cradles
Maternity belts, bands, and cradles provide firm support for your lower belly and back to help back, pelvic, and hip pain. These products a re more useful in the later second and third trimesters and can be worn under or over dresses or pants. Note that they might be uncomfortable where they press into your groin and lower belly when you sit.
Maternity belts encircle your lower back and sit under your protruding abdomen. They are narrow in front and wider in the back. Some go even higher up the sides and back to give better back support.
Maternity bands are wider and extend higher on your belly and back to give more support
Cradles are belts with harnesses that add additional lift and support for your belly and back.
Options
Try the following options for these garments.
Maternity Slips
Maternity slips can provide seamless support and shape for your upper and lower torso and bottom. Full slips give support, shape and definition to dresses and skirts. Half slips provide girdle type support for belly, hips and bottom and can be worn under dresses or skirts.
Options
This Seamless Maternity Slip is available at A Pea in the Pod for $48. It is stretchable and has a lot room for an expanding belly.
Stockings and Leggings
Maternity stockings and leggings provide support and shaping for the legs and ease tired, aching legs and feet. They may also give support to the belly and back. These garments are worn under dresses, skirts, or pants to for a smoother shape. Features of these accessories include:
St ockings that come in a pantyhose style that supports the back and belly similar to a light girdle or panty shaper and can also support the legs . They may be footed or footless. There are also full length or knee-high compression type support stockings of heavier material that decrease edema and help varicose vein problems.

Leggings that end at mid thigh, knee, mid-calf or ankle. There are footed or footless full length leggings. Thigh shapers reach mid-thigh and mold and support it to add definition.
Options
Consider the following options.
Postpartum Support Garments
Some women like to wear support garments after they deliver their baby. Postpartum abdominal garments help support your stretched out skin, muscles, and lower back until you recover them. A maternity support nursing bra is also an essential item.
Options
You have a few post-pregnancy support options.
Bamboo Post Pregnancy Support Band by Belly Bandit cinches around the waist area to hold in and support your belly. It goes for $70 at Amazon.
La Leche League Waist Nipper by La Leche Lesgue International is a longer band that holds in the belly from under breasts to hips. It retails at Figure 8 Maternity for $25.
Other Things to Consider
Choose garments that fit your needs and allow for growing breasts and belly, especially in the third trimester. It is also important to exercise so your muscles remain strong. Don't use maternity shapers and support garments as a substitute for that.
Material
Ensure that any garments you select are made of breathable, soft fabric and have no rough elastic or closures that can annoy. Many are made of synthetic materials, such as polyester, but cotton or a cotton blend might be more comfortable in a hot climate. Elastic type materials, such as lycra, spandex, and elastane, are added to support and mold but stretch as your pregnancy grows.
Garment Size
Retailers advise that you buy maternity garments in your pre-pregnancy clothes size, unless you go over the normal weight gain during pregnancy. Maternity sizes take into account the recommended weight gain in pregnancy. However, if you buy your garments early, you may find you have to get a larger size later.
Consider Your Selections
Maternity shapers and support garments can give you a sense of support and add smoother definition under your clothes during your pregnancy. You have many options, but your garment selections should be comfortable and expandable and adapt to your advancing pregnancy.