13 Sources of Financial Help for Pregnant Women
Facing an unplanned pregnancy with limited resources and support can be a very frightening experience. However, there are some sources of financial help available if you find yourself in that situation. If you're pregnant and need help with money, see what resources may be available to you.
Federal Programs for Pregnant Women
There are several government organizations that offer assistance to pregnant women. Many of these services are funded by the federal government but you may have to apply through your state's health department or agency first. Financial assistance for pregnant single mothers and others may be available through some of these sources as well.
Women, Infants, and Children Program
The Women, Infants, and Children (WIC) program offers nutritional food and education. You can also get some screening services with referrals to other agencies as needed. Women are eligible for services throughout pregnancy and up to 6 weeks after birth or the end of the pregnancy. If you are breastfeeding, you may qualify for up to one year or for 6 months after birth if you are not breastfeeding.
The WIC program issues checks, electronic cards, or vouchers so that you can purchase specific foods to improve the nutrition of the recipients. Examples of these foods include infant formula and cereal, fruits, vegetables, eggs, cheese, peanut butter, and other healthy foods.
To be eligible for this assistance, your income must be at or below 185 percent of the U.S. Poverty Income Guidelines and meet other WIC eligibility requirements to qualify for the program. If you or other family members participate in another benefit programs like Medicaid, you will automatically be eligible for this service.
Medicaid
Medicaid is a state-administered program that may allow you to obtain important heath services - especially during pregnancy. Eligibility for this program varies according to state. Generally, eligibility depends on age, disability, pregnancy, income, and other resources.
Temporary Assistance for Needy Families
The Temporary Assistance for Needy Families (TANF) program can also offer assistance to pregnant mothers if you are pregnant with no resources. TANF is federally funded but administered by the state; the goal is to provide temporary financial assistance at the same time while helping you find a job to better support yourself. The financial aid can be used to purchase food, clothing, housing, utilities, and medical supplies.
Low-income families with children and pregnant women who are in the last three months of pregnancy are typically able to receive these benefits. Each state has specific eligibility requirements like with Medicaid. In order to apply, you should contact the Medicaid director or office in your state.
Supplemental Nutrition Assistance Program
This program (SNAP) was previously known as the food stamp program, which allows low-income and no-income families to purchase food. SNAP now issues debit cards that can be used to buy groceries. Eligibility requirements vary from state to state but you need to be close to the federal poverty line to qualify.
To get more information and to apply, you should contact your state SNAP office.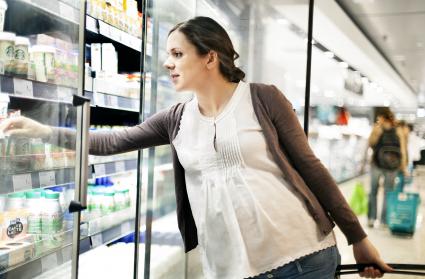 Religious Charities
There are a variety of religious organizations that may offer help to pregnant women. Since financial pressures and lack of support may contribute to the decision about abortion for some women, these groups seek to financially support women who may want assistance in carrying the pregnancy to term. They may supply clothing and baby items as well. These groups include:
Catholic Charities
Catholic Charities in Camden, New Jersey offers assistance to women with unplanned pregnancies. They provide pregnancy counseling and adoption services as well. You can check with the Catholic Charities in your area if you are in need of assistance with your pregnancy.
Aid For Women
Aid for Women has multiple offices in the greater Chicago area. They help thousands of women each year who find themselves dealing with the difficult circumstances of an unexpected pregnancy. They offer emotional and spiritual support needed to choose life and to provide a better future for you and your unborn baby.
Heather's House
Heather's House is Aid For Women's residential program. It provides a safe and supportive home for pregnant young women with no where to turn. It also guides and helps them learn skills to become self-sufficient.
Controversy Over Some Programs
There is some controversy surrounding pregnancy resource or crisis pregnancy centers because they may offer counseling while trying to steer women away from considering an abortion. This may make for an uncomfortable session while you are looking for help. But once you have made the decision to keep the pregnancy or adopt, these organizations can be very helpful.
Adoption Agencies
Adoption agencies may offer financial assistance if you are interested in placing your baby up for adoption. This assistance may come from the agency itself or from the prospective adoptive family. These agencies can help women in a variety of states with the adoption process and can help with medical and legal bills as well. A few examples of these agencies include:
Adoption Services, Inc.
Adoption Services, Inc. is a licensed, nonprofit adoption agency that offers an abundance of services to birth mothers and fathers living in the U.S. and U.S. citizens living abroad in regard to the adoption process.
Hope Cottage Pregnancy and Adoption Center
Hope Cottage Pregnancy and Adoption Center is a nonprofit, non-faith based adoption agency located in Dallas, Texas. The center provides counseling, education and adoption services.
The Cradle
The Cradle has offices in Illinois and Indiana and is renowned as one of the foremost adoption agencies in the country and also provides lifelong support to all who have been touched by adoption. It is the only adoption agency in the country with an on-site nursery for babies to stay while their parents decide if adoption is indeed the right decision for them.
The Barker Adoption Foundation
The Barker Adoption Foundation is a nonprofit adoption agency licensed in Maryland, Virginia, and Washington, D.C. It not only offers the traditional domestic infant adoption services but also focuses on placing older children from U.S. foster care and international adoptions from China, Colombia, India and South Korea. They also provide lifelong post-adoption education, training and counseling services.
Other Assistance Options
You may want to look into charitable organizations that offer assistance to pregnant mothers - both financial and through support. These organizations can offer counseling as well as help you prepare for your baby's birth with clothes, baby items, and cribs. These centers also may connect you with appropriate health centers, parenting classes, and assistance finding housing. They may also guide you through the birthing process and can help you find counselors to discuss what your next options are.
OptionLine
The OptionLine website provides free, confidential help. It also offers information about pregnancy signs and symptoms and all the additional options that are available to you. The website can then direct you to a local pregnancy help center near where you live. You can also text the HelpLine at 313131.
Text4baby.org
Text4baby.org provides health tips for you and your baby. It also offers an extensive list of Health Hotlines 4 Moms for various resources that you may need during or after your pregnancy.
Financial Assistance for Pregnant Mothers Is Available
If you are looking for financial resources while you are pregnant, there are many options available that can provide help throughout your pregnancy and that will also help accommodate your needs.