Maternity Scrubs for the Tall Woman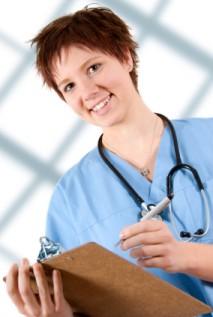 Finding maternity scrubs for the tall woman can be troublesome. You may need to use all of your resources to find pregnant clothes that fit you for work, whether you are a doctor, nurse, technician, or veterinarian.
Tall Scrub Solutions
Although many drawstring scrub pants may be adjustable, they will be hard to keep on once your pregnant belly becomes prominent. They may fall off if you try to tie them below your tummy and they may not come up high enough to tie above or on your tummy successfully. Even if you can get them up and tied comfortably, you could be left with several inches of "high waters" at your ankle.
During the first trimester of pregnancy and into the second, you may be able to wear stretchy elastic-waist scrubs in tall length. Buying a size bigger than you normally wear can give you a month or two extra before you transition into actual maternity scrubs.
Custom Maternity Scrubs for the Tall Woman
At some point in your pregnancy, you will realize the inevitable has happened. Your scrubs either cannot stay up or they cut into your abdomen and you need the extra room in the stomach. It may happen at five months or not until seven months but, eventually, it will happen.
Getting a couple of custom made maternity pants will not only accommodate your expanding belly but will have an inseam perfect for your height.
Sassy Scrubs
Sassy Scrubs offers maternity scrub pants in lengths from 25 to 38 inches. Over 1,400 fabrics can be chosen, along with the amount and location of pockets, and choice of leg (straight or knit ankle cuff). As a tall woman, you may find that regular shirts no longer cover your tummy. Choose a scrub top in a tall length to add an extra four inches to your hemline. Pocket placement is an option, as is a tie back for a more custom fit. The maternity jacket can be customized with longer sleeves and hem for a tall woman. Sizes for the pants, top, and jacket range from XXS to 6XL.
Scrub Med
Scrub Med has a maternity tunic and maternity pant available over their website. The alterations page states that custom alterations, like inseam adjustments for pants and hemline length for tops, are available on most of their scrub offerings. Contact them to find out more.
Additional Tall Scrub Options
Ordering custom maternity scrubs may not be in your budget for the short amount of time you will be wearing them. You will need to look for alternative options that fit your budget.
---
Wearing a uniform to work offers tall women fewer maternity clothing resources. But, the trouble you go through finding maternity scrubs will be worth it when you discover a comfortable pair of pants that keep your ankles covered or a shirt that keeps your belly button hidden.